Looking for Self Cleaning Litter Box For Multiple Cats or Large Cats? Perhaps, you're the proud owner of multiple cats and you are tired of scooping the litter box all day long. The self cleaning litter box is a match made in heaven for cat owners who want as little contact as possible with the litter box. 
A self cleaning litter box is another amazing innovation of our times. It was created because many people do not enjoy cleaning this cat item themselves. The definition of a self cleaning litter box is one that is capable of at least partially maintaining itself. Self cleaning litter box has a distinctive advantage for owners owning multiple cats.
Self cleaning litter boxes have gained popularity since they have been introduced into market. They have made the pet owner's life a bit easy. Whatever your reason may be, you may find yourself a bit overwhelmed with all the litter box choices. "Which is the best, the least expensive, will it last?"... are some questions that might concern you.
A self cleaning litter box for multiple cats provides certain advantages like:
Free the owners from scooping up the cat poop.

Because of self cleaning there is no bad aroma that lingers on while ordinary litters are used.

It reduces the work load, as the waste containers are usually big enough it takes once in a week to clean them.

This is very useful if you are going out leaving the cats at home.
Let's introduce the best Self Cleaning Litter Box For Multiple Cats and Large Cats - Petree Litter Box
Petree Litter Box is the highest-rated, automatic, self-cleaning litter box for cats. Never scoop cat litter again while giving kitty a clean bed of litter for each use. The mechanism of work is quite simple; it uses a globe that rotates and it sifts the litter and drops them into waste receiver that is kept in the bottom. The sifts look like a sieve. This method is very useful, as it does not allow jamming as seen in the rake cleaning the litter box.
Simple Design, Sturdy Built: Compact Size, Spacious Interior
Low Entrance Pedestal: Easily Accessible For Cats Of All Breeds and Age
Whisper Quiet < 40 decibels: Minimal noise emission. Suitable for the most timid of cats
Specification:
Name: Petree Litter Box
Petree Weight: 16lb
Material: PP resin
Voltage: 12V
Power: 5W
Max Weight Range: 44lb
Max Cat Litter Quantity: 8.8lb
Precision: 0.011lb
Trash Bin Capacity: 135oz
Features:
Design: Low CG design keeps the system stable and upright. Prevents toppling over even with heavy weight shift.
Safety Stop: Globe stop rotation if sensor detects a cat entering the globe during mid cycle 
Pet Proof Cable:

 
Durable micro-braid power cable built to withstand pet bites and chewing.
Litter Volume Indicator: Allows user to check their litter level and refill as necessary
Elevated Sifting System: Petree's patented sifting system funnels waste clumps to the back waste bin.
Raised Pedestal: Raised pedal keep loose litter within the litter box minimising litter tracking
Waste Bin: Waste is funnelled to back of globe and housed in a 4L covered waste bin
Odor Control: Activated carbon filter and Waste Bin Lid prevent litter odor from spreading out into the open
Electronic Display: Easy to operate single button electronic display
Q & A:
1. Does this Petree Self Cleaning Litter Box work for large cats?
Yes, it works for large cats as well, like 20lb.
2. Does this Petree Self Cleaning Litter Box work for Multiple Cats?
We recommend 3-4 cats per Petree Litter Box. If you have one cat, you'll clean the waste drawer once a week. If you have two cats, you'll clean the waste every 3-4 days. If you have 3 cats, you'll clean every 1-2 days.
3. Will the globe start turning when my cat is inside?

No it will not turn when your cat is inside. The patented cat protection system will detect your cat presence once your cat is inside the globe.
4. How often do I need to empty the waste drawer?
As rule of thumb, you'll clean waste drawer once a week if you have only one cat. Then you'll clean waste every 3-4 days if you have two cats. If you have more than 3 cats, you'll have to clean the drawer every 1-2 days.
5. 
Does the Petree Litter Box require special litter?
No, the Petree Litter Box simply requires clumping litter. We recommend a high-quality, standard-weight, clay-based clumping litter. Some silica gel litter beads and crystals can also be used with the Petree Litter Box, as long as they pass through the screen. Alternative, plant-based litters may also work, but these tend to form looser clumps that can cause condensation in the waste drawer. When using a plant-based litter, we recommend emptying the waste drawer and cleaning more frequently. Litters that do not work in the Petree Litter Box are the strictly absorbent, non-clumping or loose-clumping litters, newspaper-based litters, and absorbent wood pellet litter.
6. Does Petree Litter Box require special garbage bags?
No, it does not require special garbage bags. Any regular garbage bag will do. Meanwhile the package comes with one pack of garbage bag that you can use for up to 3 months.
Petree Litter Box
strongly recommend using clumping clay as the only litter choice. Any other type of cat litter including non clumping clay, silica gel crystals, pine etc is strictly forbidden. When you use non clumping clay, It's difficult for an automatic self-cleaning litter box's scooping mechanism to catch all the waste, and wet litter can cause a mess in the machine's inner workings.
Steps to use the 
Petree Self Cleaning Litter Box
You need to put litter in the self cleaning litter box first before you start initiating the machine.
Only cats that are 3 month older can use Petree Litter Box.
After you clean up the dumpster, you need to reset the machine to restart.
Don't put anything on top of the litter box to avoid misguiding the gravity sensor
Reviews of Petree Self Cleaning Litter Box For Multiple Cats and Large Cats:
Krysta Garavuso said:
GREATEST INVENTION!
This thing is seriously life changing and wish I had discovered it so much sooner.
I have 3 cats and daily scooping/cleaning 3 regular litter boxes was starting to kill my back. This thing was so incredibly easy to use every day, once I got the hang of using it properly, that I am happy with this purchase to replace regular boxes. I am ocd clean person so the litter bits left behind makes me nuts. But this self cleaning litter box is definitely one of the best things I've ever discovered and I have tried a TON of different boxes. I love it and will never EVER own another litter box other than this one!!!
Boris Mac said:
Super cool new self cleaning litter box!
Very impressed with this PETREE litter box. I used to have a litter box with no cover and the smells get very strong if I did not clean it timely. The PETREE innovative design makes it easy to clean. It has bags to line the receptacle, so that you can clean the box more frequently then just pick up the bag and throw away. I love the modern look of the box, and the fact that there is a carbon filter to eliminate odor. This is cute and doesn't look like a big ugly box, it looks like a little space capsule. I love this litter box. It is super cool! Overall this is the best cat litter box I have ever had.
Kori L said:
So far so good
We bought this A couple of weeks ago. It seems to be working properly so far. Easy maintenance, no smell and low voice, best of all of our cats love it. Will come back in a few month and update.
best investment I ever made for 3 cats living in 80sqmts with a hooman! ❤️
Works Great
Wish I had bought this sooner. I have 3 cats. Two took to it fine. Third one is more skittish but I have seen her in it. My middle cat likes to play with it too much so I usually put it in Sleep mode and turn on when I think it's dirty. I later bought the curtain to help cut down in the dust but one kitten kept tearing one side off. I have since fixed it with another 3M tape. Worth the money.
Norma West said:
Always Clean Litter Box = Happy Cats
I purchased 3 of these for my 7 cats. Yes, 7. The boxes are always clean and there is no odor. My cats are happy, and I am ecstatic! These are terrific. Cats adapt quickly and taking care of them is a breeze. Great purchase. Considering a 4th. I did also order the larger waste container. I have previously used a well-known competitor's auto litter box. It is so much noisier and it's high off the ground. We always had to turn that one off at night. Not so, with Petree. So quiet, you can hardly hear it. A perfect purchase for us. Thank you.😻😻😻
Comparison of common cat litter boexes on the market: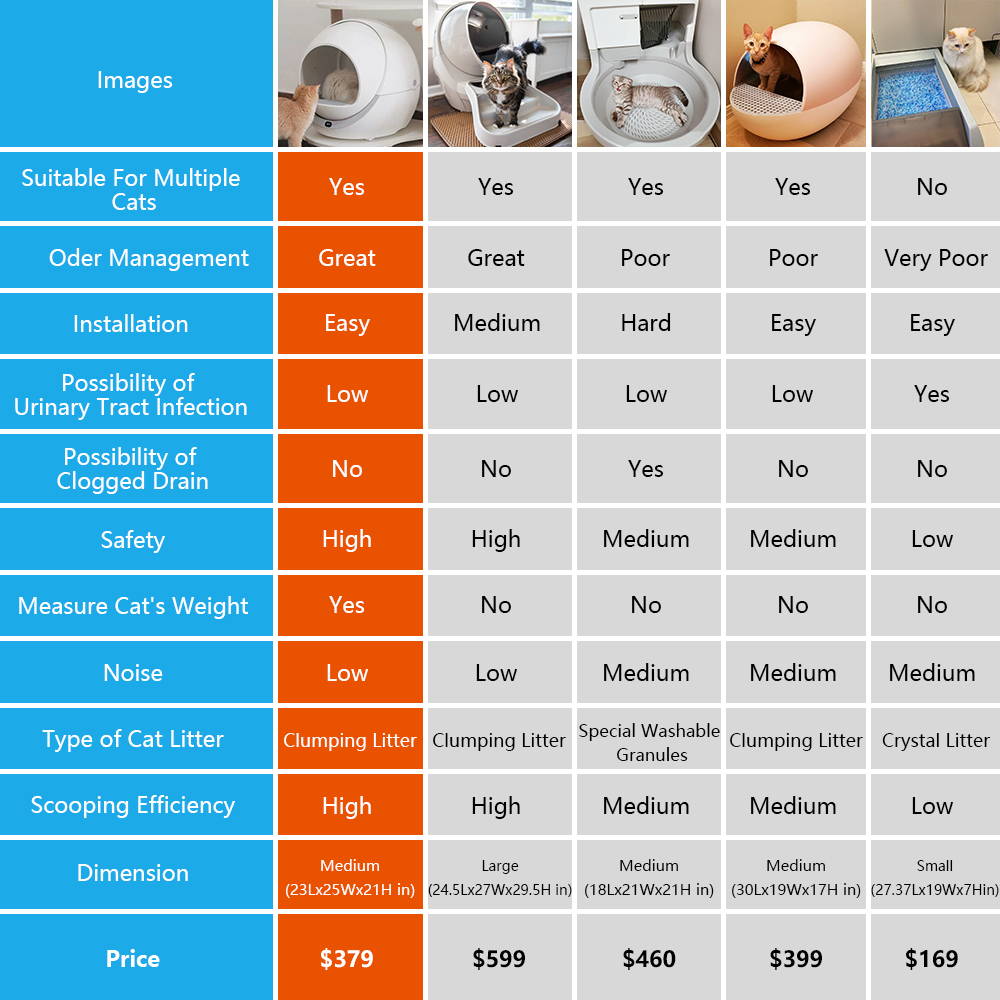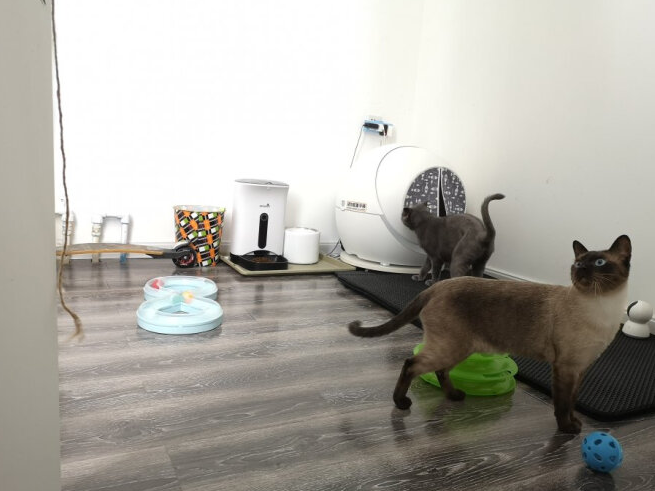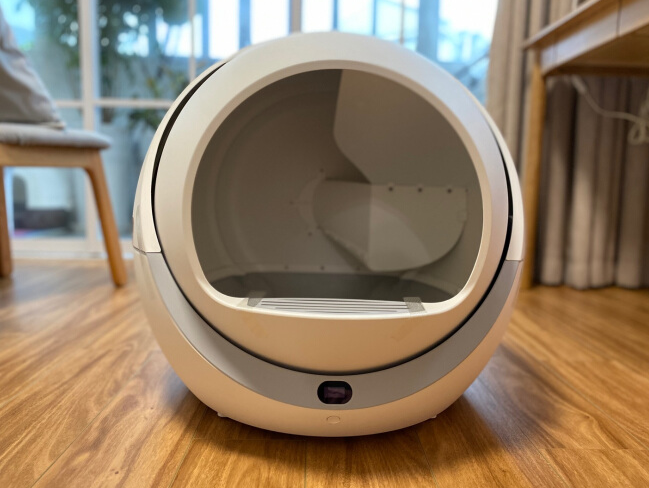 Taking care of multiple cats is not easy, and buying multiple litter boxes is also a costly task. Petree cat litter box is large enough to last for a week for one cat or several days for multiple cats.

Petree is an ideal Self Cleaning Litter Box For Multiple Cats and Large Cats, get a Petree Litter Box and save your money.